Donate to Prophetic Light (PayPal)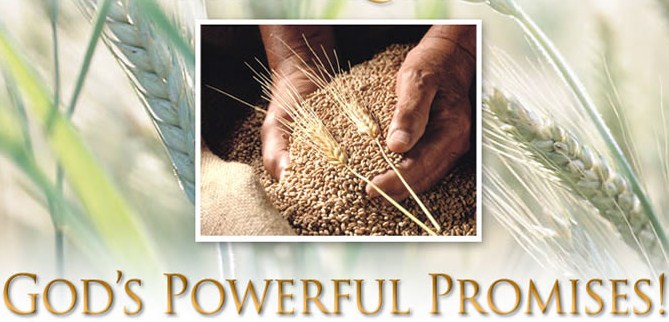 A bountiful harvest awaits you, says the Lord.  You have sown in tears, and you will reap in joy. You have labored, you have endured the long season of waiting for the precious seed to produce.  Your labor is not vain in Me, and you will reap what you have sown.  You have labored through the long blistering hot trials and testing of your faith.  You have patiently endured through many difficult nights.  Even as I said in My Word that as long as the earth remains, there will be seed time and harvest, the harvest time is just ahead for you, says the Lord.  There is coming a harvest of your prayers of faith.  Those that you even forgot are inscribed in My book, and I will answer them.  I will release your long sought after desires of your heart.  I said, "Ask and it shall be given to you, seek and you will find, knock and it shall be opened unto you. You have asked ME, says the Lord. You have sought Me!  You have knocked in your warfare against the doubt and unbelief and stood your ground in faith and trust in Me.  This will NOT be a failed harvest, says the Lord.  This will not end in drought.  A bumper crop is coming!
Even the years that the drought brought disappointing results; even those times when you did not reap what you labored for, the harvest of those years is coming.  Do not lament over the past.  I have a record of every good work that you have done.  I have calculated and collected every tear.  I heard every prayer, and you will have an expected end, says the Lord. Even though your disappointments loomed, you kept your faith in Me.  It isn't over.  Look ahead with expectation, for as you have trusted and obeyed Me, as you have continued in the faith, you will find that the light affliction that you endured will not even begin to compare to My glory to come.  The harvest is great, and I will reward your labor, I will remember every prayer, and I will give you the desire of your heart in a sudden way.  Yes, suddenly My blessings will come upon you and overtake you and you will be bathed in my tangible blessings that you will not be able to contain. GET READY, for this is not the time to give up!  This is the time to believe!  This is the time to expect!   For the harvest is coming of all your faithfulness, and your heart will rejoice with exceeding great joy, says the Lord.
Latest posts by Prophet June Sheltrown
(see all)
Donate to Prophetic Light (PayPal)