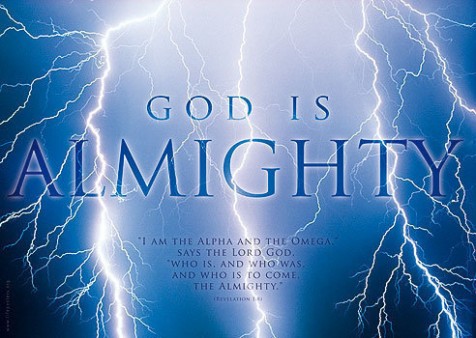 I Am the almighty GOD, and there is nothing insignificant about Me. There is nothing small about ME. Nothing can alter Me and nothing can threaten Me. I Am YOUR GOD that is undefeatable. Do not let your mind be controlled by the things that you see in the natural realm. I have made you a part of My kingdom that is without end. I was in charge yesterday, Am in complete control today, and will be there tomorrow executing My plan. I Am the eternal GOD and nothing escapes Me. You are in My mind and heart and in the center of MY WILL, says the LORD. Did you think that you can manipulate things to further you along or change anything outside of ME? I will do all that I said that I would do, for I cannot change, cannot be stopped and will not change My will concerning you. My purposes will unfold, for I AM GOD, the undefeatable ONE! No power can detain Me or keep Me back. My plan is the only plan. My purpose is the only purpose, and My will shall be done on earth as it is in heaven. You are part of what I have purposed and planned, says the LORD.
Did you think that I would call you and choose you and then let you be lost in red tape? Did you think that I would let you drown in sorrow and forget My purposes for you? Did you think that I will make you an incomplete? That is not possible. I created you for purpose. ALL of your times and seasons are in My hands and delay as you see it is not denial. I will do what I said I would do for you and through you, because I said it and cannot lie. I need no help and there is no authority that can change ME. I will, says the LORD. I will fulfill all your destiny ON TIME and provision every step that you take. You are My called and chosen, My elect and select, and I will be glorified in you and around you and the works that you do will be ordained of ME, and bring ME glory, says the LORD.
Donate to Prophetic Light
Prophet Dr. June Reinke has been the Senior pastor of Prophetic Light International,Bible School and Christian Ministries, Inc. in Dade City, Florida for over 29 years.She has been a revivalist, author and has operated in the prophetic gift, including Word of Knowledge for decades.She has experienced prophetic dreams, visions for many years. Healing, deliverance and creative miracles are among the manifestations of the Spirit that have occurred in her ministry.She is also a graduate of Tyndale Theological Seminary in Ft. Worth, Texas, and earned her MA degree in counseling From Central Michigan University.The physical church, situated at 36134 Clinton Avenue, Dade City, Florida,is called Prophetic Light Gathering Place.It is not a conventional church.but led by the Holy Spirit.She does on spot ministry, prophecy, and impartation, as the Holy Spirit and Gifts of the Spirit are in operation in the meetings.Her desire is that everyone who attends has a genuine encounter with the LORD, and be forever changed.
Latest posts by June Reinke (see all)