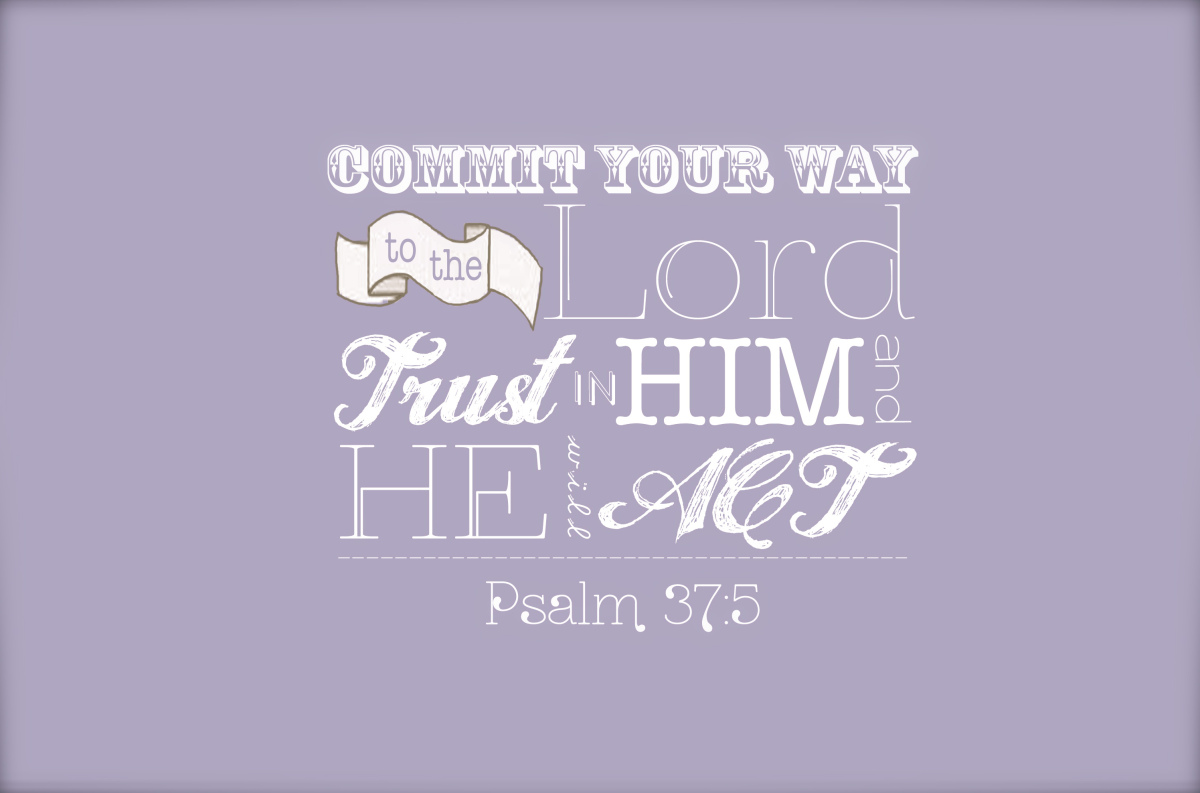 Commit your ways onto Me and I will bring it to pass, says the Lord.  I will be the cause.  I will be the one to implement it.  I will be the creator.  I will be the perfection.  I will author your ways.   I will be the finisher.   I will complete them, says the Lord.  Just commit your entire life onto Me.  Trust Me with it.  You have placed your trust in others and even in yourself in the past.  It failed you. Others failed you.  You failed to be able to accomplish what you set out to do.  But I will not fail.   I cannot fail.  I will not fail to bring about the results that will fulfill your highest heart's desire.  Your hopes will be fulfilled in Me, because I Am able to bring them to fruition, says the Lord.  Will you trust Me with the process?  Will you believe that I will grant you the desires of your heart?  Do you trust that I will not leave you on your own or to your own devices?  Will you let Me work out the details?  I Am above and I AM in control.  I Am the creator of all things, and I can do whatever I desire, and there is no power that can stop Me. I choose to work in your life and I choose you.  I choose to bring you out of the stalled condition and restart you toward your destiny in Me.  I choose to bring you into your personal promised land in Me, a land of plenty; a land of your inheritance; a land of purpose and prosperity, says the Lord.  I have chosen you, that My glory will be seen upon you, and rest upon you and be poured out of you. I have made you a child of My Kingdom with all of it's rights and privileges.  I have chosen to lift you and bring you into a land of blessings, says the Lord.
Look at how far you have already come.  Just glance back and you will remember the things that were impossible with you that are now a testimony of My power in your life.  I will yet show you great and mighty things. The things of the past are small in comparison to My glory to come that will be revealed in the midst of you.  Your faithfulness to Me will be translated into greater favor upon you, says the Lord. It is coming, for I will do it by My outstretched arm, and preform in the Midst of you My purposes and plans that will gain attention to My presence and glory and bring you into a place of oneness with Me.  It will be in this place that you will do the greater works, because I will work them through you in this season, says the Lord.
Donate to Prophetic Light
Prophet Dr. June Reinke has been the Senior pastor of Prophetic Light International,Bible School and Christian Ministries, Inc. in Dade City, Florida for over 29 years.She has been a revivalist, author and has operated in the prophetic gift, including Word of Knowledge for decades.She has experienced prophetic dreams, visions for many years. Healing, deliverance and creative miracles are among the manifestations of the Spirit that have occurred in her ministry.She is also a graduate of Tyndale Theological Seminary in Ft. Worth, Texas, and earned her MA degree in counseling From Central Michigan University.The physical church, situated at 36134 Clinton Avenue, Dade City, Florida,is called Prophetic Light Gathering Place.It is not a conventional church.but led by the Holy Spirit.She does on spot ministry, prophecy, and impartation, as the Holy Spirit and Gifts of the Spirit are in operation in the meetings.Her desire is that everyone who attends has a genuine encounter with the LORD, and be forever changed.
Latest posts by June Reinke (see all)