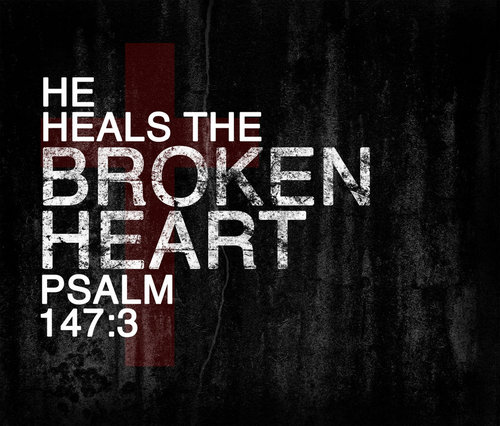 I Am healing your broken heart and fractured life, says the Lord.  I want you to be whole.  The wounds of your heart are important to Me, and I Am the heart mender.  You have tried to conceal all your pain that is deep within, but as My Spirit scans the very deepest parts of you, I see the very things that you cannot even talk about.  You have tried to cover them up so others would not notice how torn you feel.  But I see it and hear the very cry of your innermost being, says the Lord.  I understand and I care.  I Am touched by the very feelings of your infirmities.  When your heart aches, it touches My heart, says the Lord.  The many stripes that I suffered for you were not just for the healing of your body, but also for every affliction of your heart and life.  Yes, I will mend it.  I will remove the agony, and I will restore comforts to you, says the Lord.
Look to Me to heal your fractured life, says the Lord.  You do not know how to put things back together again.  But I do.  It is not too difficult for Me.  No matter how long you have suffered, no matter how impossible it appears to be, no matter how many times you have failed, I will heal you.  I never fail.  Trust Me with your pain.  Trust that My love covers a multitude of sin: yours and those committed against you. Trust that I died on the cross to pay the penalty for every sin. You don't have to pay for it.  I did.   Trust that I can fix that which is broken and make all things new.  Let go of the blame.  Do not blame yourself.  Just give Me all of your heart, and I will take care of the wounds.  I will pour in the oil of My Spirit to soothe and heal the damage that even years of self-help could not accomplish.  It is time to give your entire self to Me, and let Me do the perfect work to restore your soul.  I will pour My Spirit of life into you, and heal your broken heart and fractured life and make all things new for you.  You wanted change.  Are you tired of the pain?  Are you tired of struggling with suppressing the hurt?  I Am ready to heal you completely if you trust Me to heal you of your past, revitalize your present and lead you into the liberty and joyfulness of being emotionally and mentally and physically well and whole, says the Lord.
Donate to Prophetic Light
Prophet Dr. June Reinke has been the Senior pastor of Prophetic Light International,Bible School and Christian Ministries, Inc. in Dade City, Florida for over 29 years.She has been a revivalist, author and has operated in the prophetic gift, including Word of Knowledge for decades.She has experienced prophetic dreams, visions for many years. Healing, deliverance and creative miracles are among the manifestations of the Spirit that have occurred in her ministry.She is also a graduate of Tyndale Theological Seminary in Ft. Worth, Texas, and earned her MA degree in counseling From Central Michigan University.The physical church, situated at 36134 Clinton Avenue, Dade City, Florida,is called Prophetic Light Gathering Place.It is not a conventional church.but led by the Holy Spirit.She does on spot ministry, prophecy, and impartation, as the Holy Spirit and Gifts of the Spirit are in operation in the meetings.Her desire is that everyone who attends has a genuine encounter with the LORD, and be forever changed.
Latest posts by June Reinke (see all)