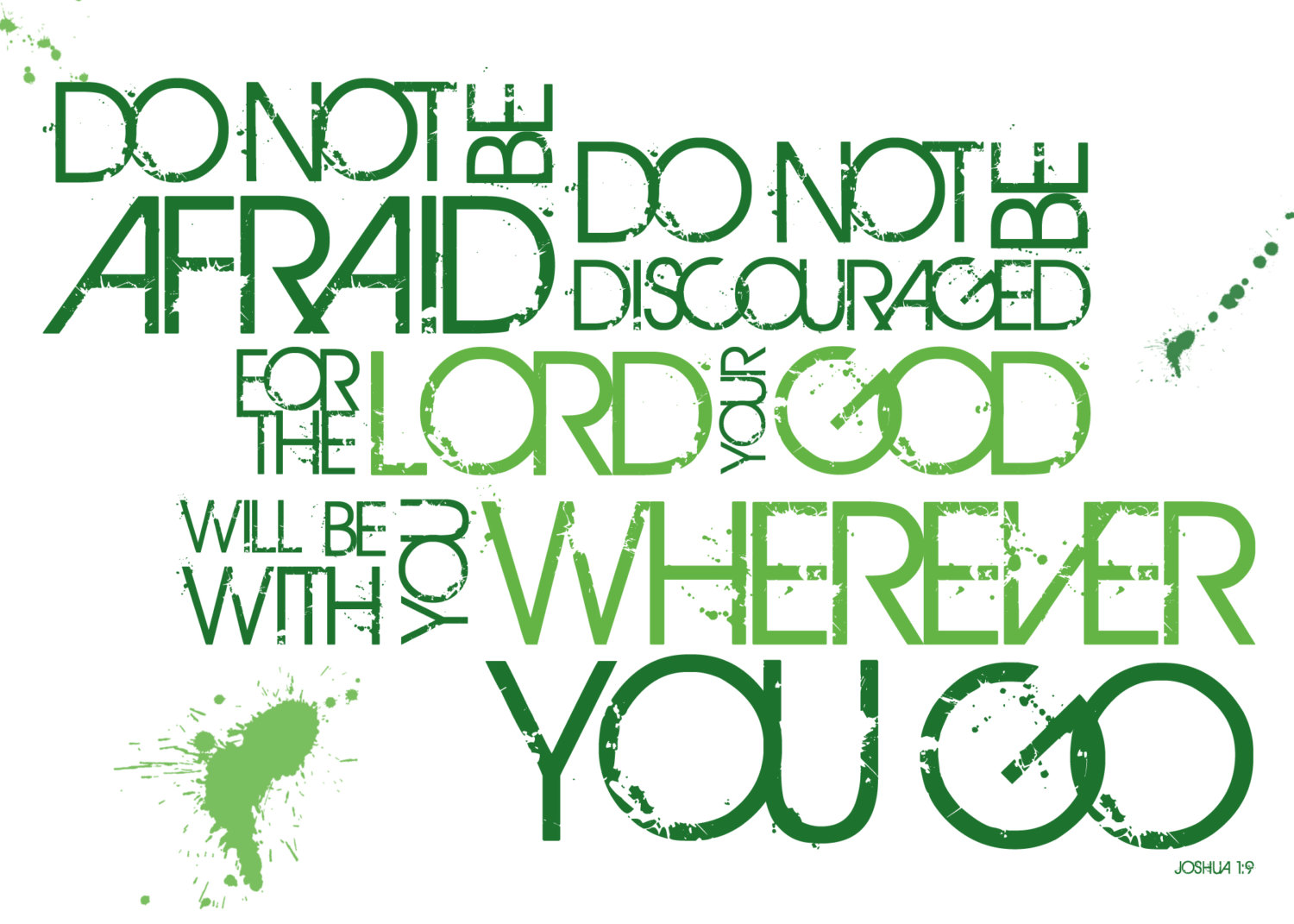 I Am not the author of discouragement, says the Lord.  Do not be discouraged.  Do not let the things that you are going through to embitter you.  Take courage in Me and fight the good fight of faith.  You know that the outcome will be good when you do.  This is not too hard for you, because I Am with you to insure your success. I Am with you to see you through every challenge that you face.  I AM the greater One in the midst of you. I have given you My best gifts and every one of them have been granted to you because of My loving kindness and grace given to you freely.  Do not join forces with the enemy whose business is to condemn and exclude you from My promises. That is his evil report that you must turn away from.  Turn away from the negativity of that voice that tells you that you cannot succeed; that you are not good enough, strong enough, wise enough, deserving enough.  It is about My finished work on the cross for you.  It is all about My presence and power in your life.  You do not have to come up with the solutions or the answers.  You do not have to arise and shake yourself and equip yourself in your battle against the evil one.  I Am the greater One within you, and all that I Am is available to you through your faith and trust in Me.  You must lean on Me fully and forget about yourself.  Put your own reasoning aside.  It only causes you frustration after frustration as you come up short of the remedy.  I never come up short of a perfect plan at a perfect time in a perfect place for you.  I will grant the victory, because I AM the undefeatable one.  I NEVER LACK ANYTHING, and I have granted you EVERYTHING that is Mine and all that I AM, says the Lord.
I know that you feel overwhelmed by the onslaught of the enemy.  But you are relying on yourself rather than My inexhaustible strength.  Let your faith rise within your heart.  Let courage boldly declare that I AM your helper and there is nothing, absolutely nothing that man can do onto you.  I stand with you.  I Am for you, just because.  You are MINE, says the Lord.  Because you belong to Me, because you trust in ME, because you look to Me, you will never be defeated.  Do not then allow the enemy to taunt you and oppress you.  Stand up and fight.  Let My strength be made perfect in your weakness, and see how I strengthen you, help you, and uphold you with the right hand of My righteousness.  Since when have I come up short of anything, says the Lord. I own it all.  I have it all. I control it all.  Are you not thankful that I have YOU!  Of course you are.  Then act like it and be the person of valor I have created you to be.  As I have made you for MY pleasure then know what gives ME pleasure.  Being MINE gives Me great pleasure, for I bought you with a price: My own precious blood that was shed for you.  It gives Me great pleasure for you to arise and stand in courageous faith in Me against the evil one who does not have greater weapons than I have FREELY equipped you with.  You, My dear one, you  My precious and priceless child, are a child of My favor and grace.  You are MY investment, which was a total commitment and sacrifice of My life for you.
Stand and be strong in Me now and evermore and see every battle through to certain victory.  NONE ARE WITHOUT EXCEPTION, and this too is NOT TOO BIG for Me and it is not too hard for you, because I, the undefeatable, greater One Am within you to bring you to absolute victory in ME now and ever, says the Lord.
Donate to Prophetic Light
Prophet Dr. June Reinke has been the Senior pastor of Prophetic Light International,Bible School and Christian Ministries, Inc. in Dade City, Florida for over 29 years.She has been a revivalist, author and has operated in the prophetic gift, including Word of Knowledge for decades.She has experienced prophetic dreams, visions for many years. Healing, deliverance and creative miracles are among the manifestations of the Spirit that have occurred in her ministry.She is also a graduate of Tyndale Theological Seminary in Ft. Worth, Texas, and earned her MA degree in counseling From Central Michigan University.The physical church, situated at 36134 Clinton Avenue, Dade City, Florida,is called Prophetic Light Gathering Place.It is not a conventional church.but led by the Holy Spirit.She does on spot ministry, prophecy, and impartation, as the Holy Spirit and Gifts of the Spirit are in operation in the meetings.Her desire is that everyone who attends has a genuine encounter with the LORD, and be forever changed.
Latest posts by June Reinke (see all)