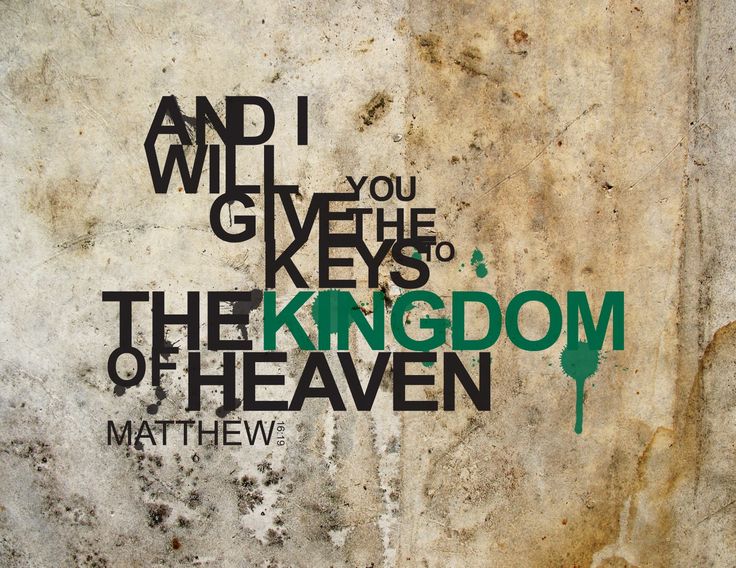 I have given you the keys to My kingdom, says the Lord.  Not only do you have access to My very thrown, I have given you the keys that gives you entrance into the storehouse of blessings.  Yes, I have given you the keys.  That means ownership, for all that I have is yours.  I have not kept anything from you.  I have not denied you access.  Use your keys to open the doors of blessings that already belong to you, says the Lord.  You have been given entitlement to possess those things that I have already laid up in store for you.  My death on the cross paid in full for every benefit and you became My entitled child as you received all that I purchased for you by faith in Me.  My blood has made you worthy.  Do not listen to the condemning voices that accuse you and malign you and keep you from using the keys that I have given you, says the Lord.  Do not condemn yourself. I have purchased you with My own precious blood and have adopted you into My family.  My Kingdom is your dwelling place, and all that is within it is assessable to you.  BELIEVE AND RECEIVE!  Take possession of what is yours by boldly proclaiming your faith!  The enemy is a liar and he has no access to My kingdom. Do not let him interfere with you coming in boldly and obtaining every need that I have provided for you already, says the Lord.
Fear and doubt come from the enemy.  Condemnation comes from Him.  The guilt that you feel that keeps you from fellowshipping with Me and obtaining every daily benefit is not of Me.  I have fully forgiven and cleansed you from all unrighteousness as soon as you embraced my provision of cleansing.  You are clean through My Word, through My shed blood on the cross, through My Spirit that dwells within you as you receive it by simple faith in what I have accomplished for you. It was not your effort or works that entitled you, but MY WORK ACCOMPLISHED for you.  Take what belongs to you.  See yourself as clean.  For what I have cleansed, let no man call unclean. I have cleansed you, and you are clean, says the Lord.  The keys are yours.  You do not have to war for what belongs to you.  You have to war against the enemy that is running interference.  Don't cry out to Me to give you what I have already released.  Cry out to Me for help to receive what is yours, says the Lord. I will send My ministering Spirits to war with you as you contend for the faith that I have delivered unto you.  Fight the good fight of faith, for I Am on your side and with you always to see you break through the enemy garrisons and come to the wells of My salvation, healing, deliverance and provision and freely draw out what you need.  Yes, you are an heir of all things and have the keys to every blessing and benefit that I have freely given you, says the Lord.
Donate to Prophetic Light
Prophet Dr. June Reinke has been the Senior pastor of Prophetic Light International,Bible School and Christian Ministries, Inc. in Dade City, Florida for over 29 years.She has been a revivalist, author and has operated in the prophetic gift, including Word of Knowledge for decades.She has experienced prophetic dreams, visions for many years. Healing, deliverance and creative miracles are among the manifestations of the Spirit that have occurred in her ministry.She is also a graduate of Tyndale Theological Seminary in Ft. Worth, Texas, and earned her MA degree in counseling From Central Michigan University.The physical church, situated at 36134 Clinton Avenue, Dade City, Florida,is called Prophetic Light Gathering Place.It is not a conventional church.but led by the Holy Spirit.She does on spot ministry, prophecy, and impartation, as the Holy Spirit and Gifts of the Spirit are in operation in the meetings.Her desire is that everyone who attends has a genuine encounter with the LORD, and be forever changed.
Latest posts by June Reinke (see all)