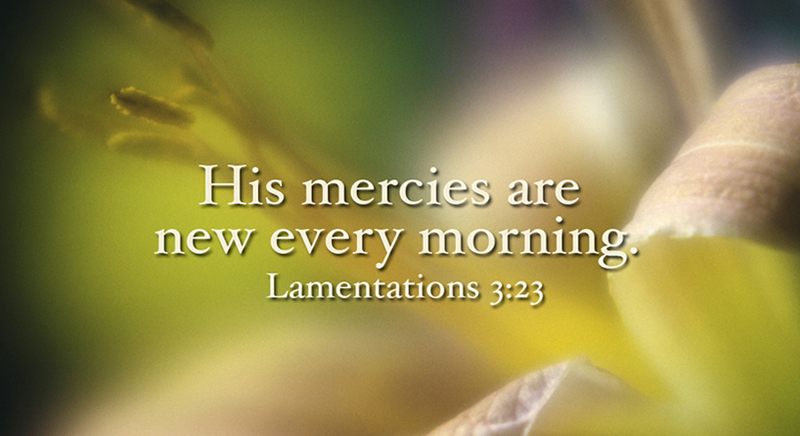 The benefits that I daily load you with are inexhaustible, says the Lord.  There is no end to them.  As My compassion is new morning by morning and My faithfulness to you, so are My benefits that I give you as My entitled child.  Every day I give you a good measure of fresh grace and mercy.  There is never a time when you are without My loving kindness and tender mercies.   You will never have to face the fierce enemy attacks alone, for I Am with you always.  There is never a time that your victory is uncertain in Me, for there is no power that can overwhelm Me and there is none that can conquer you. I Am on your side.  I Am your shield and exceeding great reward.  I will not allow the enemy to overrun you.  He cannot curse what I have blessed.  I have blessed you. I have blessed every person, place and thing that pertains to you, and My blessings make you rich, and I add no sorrow to them, says the Lord.  I add no sorrow to your life, but only give you My unceasing joy that is unspeakable in My presence.  Receive the benefits that are yours, says the Lord, for the enemy has no ability to keep them from you.
Come into My presence with singing; come with praise and worship unto Me for all that I have done for you, am doing for you, and will do perpetually for you, says the Lord.  Be joyful and give thanks, for you are well provisioned.  You are kept by Me continually. I Am your covering. I have your back.  I go before you and prepare the way.  None of your steps will slide, because I will hold you up with My own right hand and keep you from stumbling and falling. I will lead and guide you continually and there will be no question that I Am with you always.  You will know My presence that gives you peace and assurance through the long night, through every trial and test, because you already know the outcome.  You win….always.  Victory is assured for you just as you know that the sun will come up every morning regardless of what else will occur. I Am with you always and nothing in light of that can be against you.  For I cannot be defeated and you will not know defeat as I equip you and clad you with My own armor and weapons that are mighty through Me to the pulling down of every stronghold of the enemy.  Victory is yours and a daily benefit that I give you, says the Lord.  Be joyful this day that I have created for you, for there is nothing that can defeat you with Me on your side, says the Lord.
Prophet Dr. June Reinke has been the Senior pastor of Prophetic Light International,Bible School and Christian Ministries, Inc. in Dade City, Florida for over 29 years.She has been a revivalist, author and has operated in the prophetic gift, including Word of Knowledge for decades.She has experienced prophetic dreams, visions for many years. Healing, deliverance and creative miracles are among the manifestations of the Spirit that have occurred in her ministry.She is also a graduate of Tyndale Theological Seminary in Ft. Worth, Texas, and earned her MA degree in counseling From Central Michigan University.The physical church, situated at 36134 Clinton Avenue, Dade City, Florida,is called Prophetic Light Gathering Place.It is not a conventional church.but led by the Holy Spirit.She does on spot ministry, prophecy, and impartation, as the Holy Spirit and Gifts of the Spirit are in operation in the meetings.Her desire is that everyone who attends has a genuine encounter with the LORD, and be forever changed.
Latest posts by June Reinke (see all)