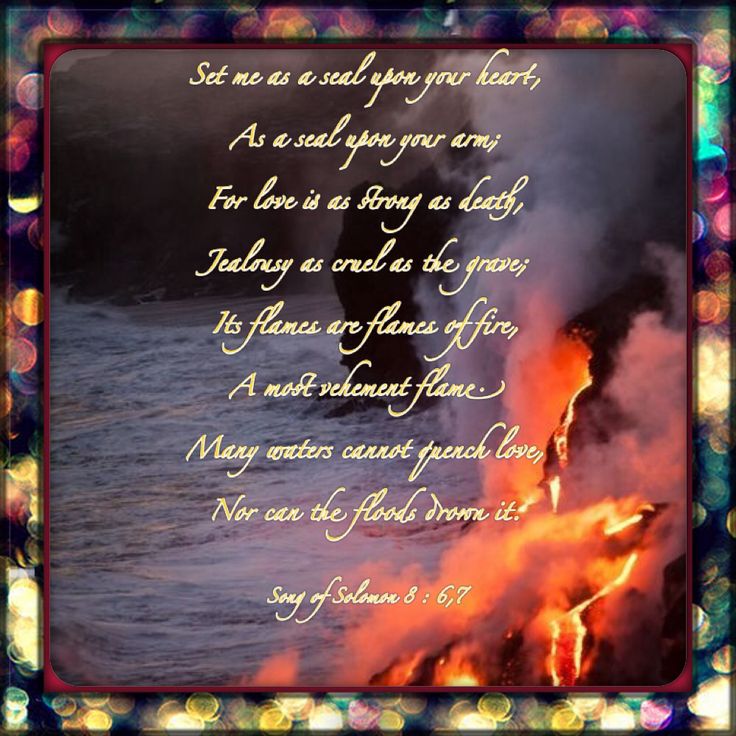 Many waters cannot quench the love that I have for you, says the Lord.  My love is everlasting and infallible.  It is unconditional.  It is unearned.  It is undeniable.  It is constant.  It is enduring.  It is unchangeable.  No matter what you are going through and no matter what the times and seasons are in your life, no matter what the circumstances, no matter how you feel, I love you, says the Lord.  Nothing can separate you from My unimpeachable love for you.  I do not turn My love on an off.  It is always there for you even in times when you turn your back on Me and turn a deaf ear to My call for you to come closer to Me and receive intimate love from Me.  Even while you were yet a sinner, My love for you took Me to the cross.  I died for you because I love you and wanted to bring you into My Kingdom.  My blood purchased you and blotted out every one of your sins.  Even when you did not know of Me, I knew you and loved you.  How much more will I give you freely all things pertaining to life now, since you have believed in Me and trusted Me to save you.  I will freely give you all things to enjoy.  Everything that I have for you is birthed in My heart of love for you, says the Lord.
Come into My presence and let me wrap My arms around you and reassure you of My love and devotion to you, says the Lord.  Come and enjoy fellowship and intimacy with Me.  There is nothing that you cannot share with Me and nothing that I will not freely give you!  I created you for fellowship and friendship and intimacy with Me and created you for My pleasure.  It is My good pleasure to give you all things.  You are not a beggar that you have to crawl into My presence.  Come boldly as a beloved, entitled child that I purchased with My own blood.  Come and make your requests known onto Me.  There is nothing too big; nothing too small; nothing that you cannot ask. Ask of Me!  I say yes to your requests.  I say yes!  Yes, I will. I will answer you.  It is not by your good works that entitles you to the manifold blessings that I have for you, but MY infallible love.  It is My grace that is freely given for you.  I give good things for you to enjoy, always.  Every good and perfect gift comes from Me, and I know just what you need. I know exactly what I can give you that will cause your heart to sing.  I have many gifts for you that await in My presence.  Come and discover all of them, says the Lord. They are never ending.  As My love is eternal, My gifts that I give you are never ending,  They will not be extracted from you.  Just trust in My love for you and come and receive the things that I have prepared for those who love Me, says the Lord.
Prophet Dr. June Reinke has been the Senior pastor of Prophetic Light International,Bible School and Christian Ministries, Inc. in Dade City, Florida for over 29 years.She has been a revivalist, author and has operated in the prophetic gift, including Word of Knowledge for decades.She has experienced prophetic dreams, visions for many years. Healing, deliverance and creative miracles are among the manifestations of the Spirit that have occurred in her ministry.She is also a graduate of Tyndale Theological Seminary in Ft. Worth, Texas, and earned her MA degree in counseling From Central Michigan University.The physical church, situated at 36134 Clinton Avenue, Dade City, Florida,is called Prophetic Light Gathering Place.It is not a conventional church.but led by the Holy Spirit.She does on spot ministry, prophecy, and impartation, as the Holy Spirit and Gifts of the Spirit are in operation in the meetings.Her desire is that everyone who attends has a genuine encounter with the LORD, and be forever changed.
Latest posts by June Reinke (see all)