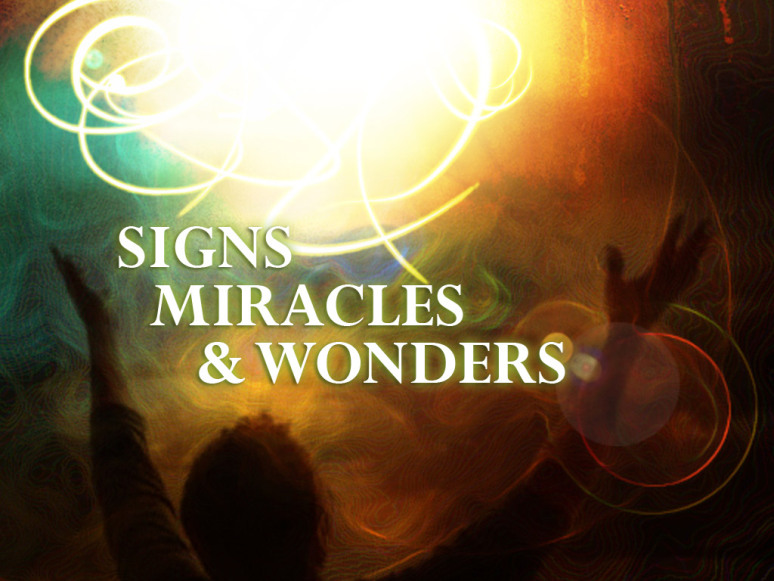 Miracles, signs and wonders are part of My Kingdom realm says the Lord, and when you pray, My Kingdom come, My will be done on earth and in your life as it is in heaven, you are asking for My presence, My Spirit, My power and My glory.  You are asking for the miraculous.  This is what I want you to believe Me for, says the Lord.  Do not limit Me to your experience. Do not have a narrow vision or expectation, for if you can think it, if you can reason it, if you can expect it, if you can imagine it, then it is not believing Me for the spectacular of the exceeding abundantly above that which you could ever ask or think!  This is what I want you to stretch your faith and expectation for.  The unexpected.  The miraculous.  The impossible!  The unheard of!  For I Am unlimited, and I desire you to believe for Me to be put on display that will attract attention to My power and glory that is unsurpassed!  I want to be seen!  I want to be heard!  I want My tangible power and glory to be experienced, says the Lord.  I will only do so as you believe for My power and glory to be revealed. I will only perform miracles, signs and wonders as you worship Me and believe!  Do you want this?  Yearn for Me to be seen and heard and felt.  Why would you want to put Me in a box, says the Lord.
Pray, then, in this way: 'Our Father who is in heaven, Hallowed be Your name. Your kingdom come. Your will be done, On earth as it is in heaven.Mathew 6:9-10
I Am calling you to come out of the box of religious mentality and traditions that have kept you back from My power and glory.
It is My desire to pour out My Spirit upon all flesh.  Are you willing to believe?  Are you willing to be called out and called up higher?  I will work in the midst of you and do great and mighty things past finding out if you will pray and BELIEVE.  Do not quench My Spirit, but allow Me to work in your midst. Yield to My Spirit!  Be open to My higher thoughts and ways, and listen to My voice and follow My lead and you will experience the revival that you have been crying out for.  As My Spirit moves in the midst of you, I will save your lost, heal your sick, provide for your needs, bring you unspeakable joy, fill you with My Spirit and heal your land as you humble yourself before me, seek My face, turn to Me with all your hearts and believe.  I Am ready to revive and heal your land.  I Am ready to display of My power and glory as you press into My presence and allow Me to work in your life and your midst in an unrestrained way, says the Lord.
Donate to Prophetic Light
Prophet Dr. June Reinke has been the Senior pastor of Prophetic Light International,Bible School and Christian Ministries, Inc. in Dade City, Florida for over 29 years.She has been a revivalist, author and has operated in the prophetic gift, including Word of Knowledge for decades.She has experienced prophetic dreams, visions for many years. Healing, deliverance and creative miracles are among the manifestations of the Spirit that have occurred in her ministry.She is also a graduate of Tyndale Theological Seminary in Ft. Worth, Texas, and earned her MA degree in counseling From Central Michigan University.The physical church, situated at 36134 Clinton Avenue, Dade City, Florida,is called Prophetic Light Gathering Place.It is not a conventional church.but led by the Holy Spirit.She does on spot ministry, prophecy, and impartation, as the Holy Spirit and Gifts of the Spirit are in operation in the meetings.Her desire is that everyone who attends has a genuine encounter with the LORD, and be forever changed.
Latest posts by June Reinke (see all)