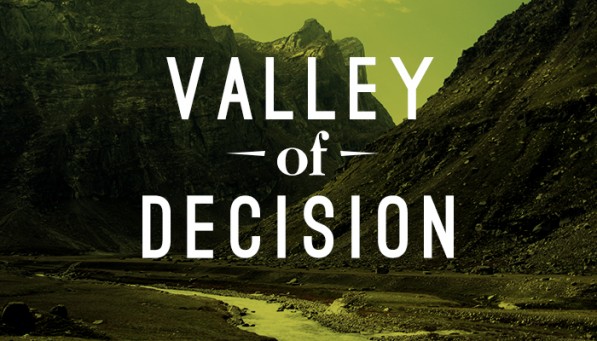 Multitudes, multitudes are in the valley of decision, says the Lord. There are multitudes who have not decided whether to believe in Me or not. This is a season of indecision for so many. They have heard about Me. They have had testimony of Me, says the Lord. But they have NOT SEEN ME in action. They have not seen anything that would compel them to come to Me. They are weary of words, says the Lord. In this season this group of the undecided are seeking reality in Me. They are seeking proof. As you SEEK ME, ask of Me to give you the demonstration of My power. It is My power that will draw them. It is the Manifestation of My presence that will cause them to come to Me. My kingdom is in power, says the Lord. It is in demonstration. It is in DEED. Pray, says the Lord. Pray for signs and wonders and miracles and healings. Pray that there will be the evidence that can be seen and experienced. For I am calling MY remnant forth in these times, these times of indecision, these times of unbelief, to demonstrate My Word with signs following. I want to be SEEN, says the Lord. I want MY voice to be followed with power that can be felt. In these times, PREPARE THE WAY BEFORE MY FACE. I am coming soon, and those who are undecided need to KNOW that I exist by seeing what I DO! Pray, and press into My presence until you are fully empowered with a fresh anointing. Pray and press into My presence until you are fully endued with power.
Press into My presence until YOU are FULLY equipped with fresh faith and power and anointing and WATCH ME WORK in and through you. For this is the season when many will come in as they see the signs and wonders and miracles. If you will press into ME, I will press into you My POWER that will become a demonstration that is not only in Word but in deed. It is time for My people to minister to ME, says the Lord. As you do, I will minister to you and through you and the doors will be open to reach the multitudes that are in the valley of decision, says the Lord. WILL YOU PRESS INTO ME in these times, asks the Lord? WILL YOU SPEND THE TIME WITH ME? WILL YOU ABANDON YOURSELF TO ME, and earnestly seek My face and remain in My presence until My face radiates on yours? If you will, then you will be changed. Your testimony of Me will change. Your level of faith will change, for signs will follow you, says the Lord, and that is what many are looking for.  They want a demonstration of what they have heard and it will only happen as My people press  into My presence until they are fully endued with power from on high.  As your personal pursuit of me increases and My anointing rests upon you, and My light is seen upon you, others will come to this light and see My power and witness the miraculous and say the Lord has done great things.  He is the Lord.
Donate to Prophetic Light
Prophet Dr. June Reinke has been the Senior pastor of Prophetic Light International,Bible School and Christian Ministries, Inc. in Dade City, Florida for over 29 years.She has been a revivalist, author and has operated in the prophetic gift, including Word of Knowledge for decades.She has experienced prophetic dreams, visions for many years. Healing, deliverance and creative miracles are among the manifestations of the Spirit that have occurred in her ministry.She is also a graduate of Tyndale Theological Seminary in Ft. Worth, Texas, and earned her MA degree in counseling From Central Michigan University.The physical church, situated at 36134 Clinton Avenue, Dade City, Florida,is called Prophetic Light Gathering Place.It is not a conventional church.but led by the Holy Spirit.She does on spot ministry, prophecy, and impartation, as the Holy Spirit and Gifts of the Spirit are in operation in the meetings.Her desire is that everyone who attends has a genuine encounter with the LORD, and be forever changed.
Latest posts by June Reinke (see all)