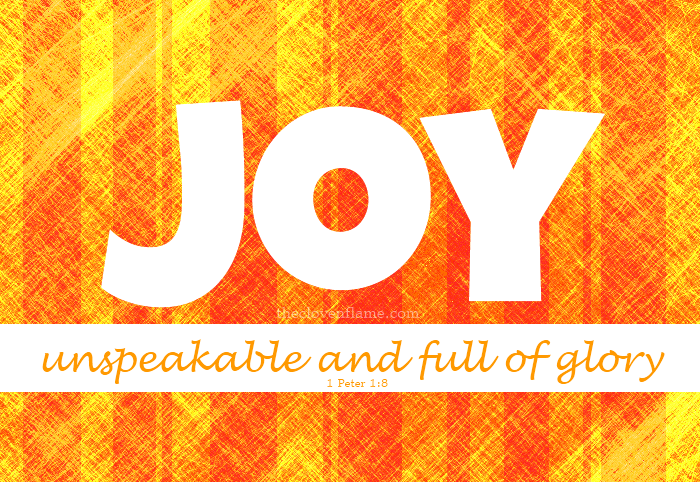 Laugh your way into victory, says the LORD, for My unspeakable joy belongs to you even in times when the storm clouds gather and threaten you with damage and loss.  Laugh at the storm clouds.  Laugh at the enemy.  Let him know that trouble on every side is not about to take you down and will not take you out of the good fight of faith.  Laugh at the roar of the lion against you as he threatens harm, taunts and mocks you and tells you that you are not worth anything.  Laugh. For your victory is certain.  The enemy doesn't have a chance to defeat you, says the LORD.   He cannot even touch you, for My wall of fire is around you, and My glory is within.  Soak in it and enjoy your position in Me, for there is nothing that can harm you.  The enemy is on the outside looking at you, but has no ability to encroach your space. SO LAUGH and be joyful in Me, and watch the dark one get nervous.  He knows he cannot win, and you know you cannot lose, for you belong to Me, and I call you undefeatable, says the Lord.
My joy for you is unimpeachable and there is nothing the enemy can do to extract My love from you. There is nothing he can do to keep you from your destiny in ME.  He cannot even delay My purposes and plans, for I order every step that you take and nothing can stop Me from fulfilling My plan and purpose in your life ON Time, says the LORD.  I Am never tardy and nothing takes Me by surprise.  There is no power that can conquer ME and none that can destroy MY plans.  I cannot be controlled or intimidated, ever, says the LORD.  So when the enemy comes to disrupt your joy, just laugh at him and be assured that I Am always in complete control, in charge of your life, order and provision every step of your sojourn, and I will NOT BE MOCKED!  I will fulfill every purpose that I prescribed for your life and there is no power that can stop ME. I will do what I said I would do for you, with you and through you.  Be of good cheer, says the LORD, for every WORD that I have spoken concerning you will surely come to pass in MY TIME AND WAY.  You can just enjoy the ride as you place your full confidence in Me and MY Word, for it shall be done exactly as I have ordered, says the LORD.
Donate to Prophetic Light
Prophet Dr. June Reinke has been the Senior pastor of Prophetic Light International,Bible School and Christian Ministries, Inc. in Dade City, Florida for over 29 years.She has been a revivalist, author and has operated in the prophetic gift, including Word of Knowledge for decades.She has experienced prophetic dreams, visions for many years. Healing, deliverance and creative miracles are among the manifestations of the Spirit that have occurred in her ministry.She is also a graduate of Tyndale Theological Seminary in Ft. Worth, Texas, and earned her MA degree in counseling From Central Michigan University.The physical church, situated at 36134 Clinton Avenue, Dade City, Florida,is called Prophetic Light Gathering Place.It is not a conventional church.but led by the Holy Spirit.She does on spot ministry, prophecy, and impartation, as the Holy Spirit and Gifts of the Spirit are in operation in the meetings.Her desire is that everyone who attends has a genuine encounter with the LORD, and be forever changed.
Latest posts by June Reinke (see all)