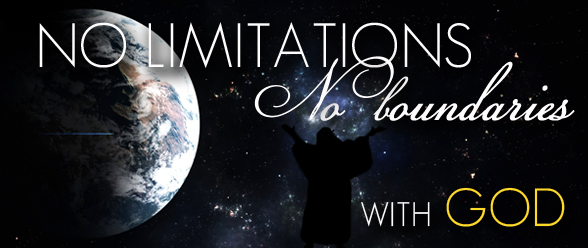 I Am not restricting you, says the Lord. I Am limitless and have no boundaries.  I Am not binding you, but releasing you to walk in liberty.  I AM breaking every yoke and loosing you from every bondage by My infallible Spirit, says the Lord. You are unfettered in Me.  You are not bound.  You are free to be all that I created you to be.  This is the season of Jubilee for you.  I Am sounding the trumpet and calling forth the guards to open the prison doors, remove the shackles and set My people free to serve Me. Walk free of the bondage of the past religious spirits that have dictated a vision of their own hearts that did not line up with MINE, says the LORD.  I have a vision; I have given you one, and where there is no vision the people perish. It is in this season that I Am giving sight to the blind and causing the lame to walk.  I will have My people see with clarity so that they can move with grace into the new season of productivity, says the Lord.
My people will say, "Once I was blind, but now I see. I was unable to walk out my destiny, but now I can.  Yes, My people will not only see and know, but I will enable them to move in the realm of their destiny in Me without any delay, without any setbacks, without any hindrances, without any fear.  This is a time when the gates are open, the prison doors are swung wide open and there is no more darkness to envelop you.  Arise and shine in this season and let My glory that I release in your midst be seen upon you and propel you into the great things that I have in store for you, says the Lord.
Prophet Dr. June Reinke has been the Senior pastor of Prophetic Light International,Bible School and Christian Ministries, Inc. in Dade City, Florida for over 29 years.She has been a revivalist, author and has operated in the prophetic gift, including Word of Knowledge for decades.She has experienced prophetic dreams, visions for many years. Healing, deliverance and creative miracles are among the manifestations of the Spirit that have occurred in her ministry.She is also a graduate of Tyndale Theological Seminary in Ft. Worth, Texas, and earned her MA degree in counseling From Central Michigan University.The physical church, situated at 36134 Clinton Avenue, Dade City, Florida,is called Prophetic Light Gathering Place.It is not a conventional church.but led by the Holy Spirit.She does on spot ministry, prophecy, and impartation, as the Holy Spirit and Gifts of the Spirit are in operation in the meetings.Her desire is that everyone who attends has a genuine encounter with the LORD, and be forever changed.
Latest posts by June Reinke (see all)