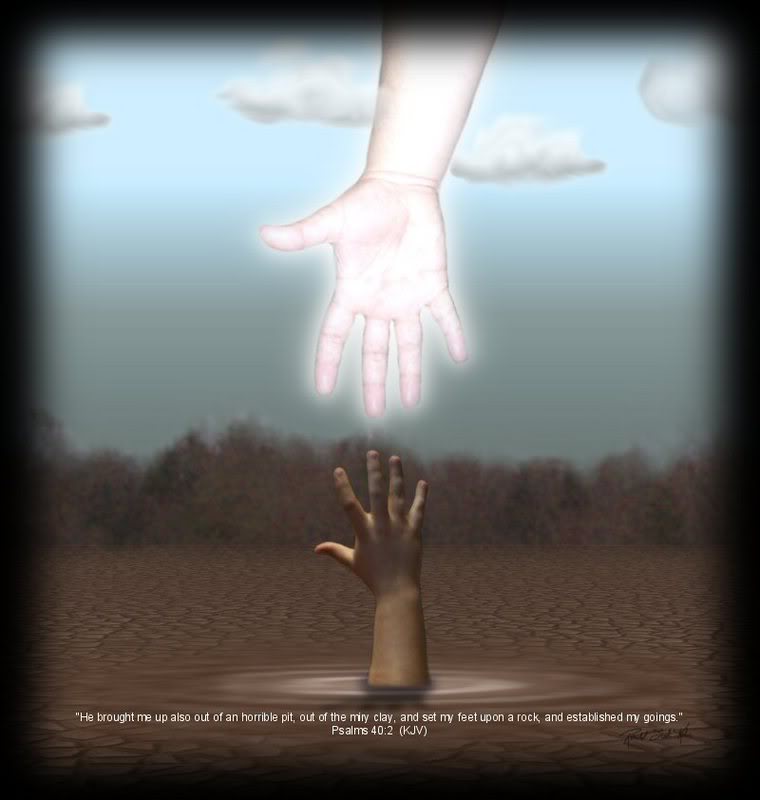 There were pitfalls in the past in your life that I delivered you out of, says the LORD.  There were trials and tests that in your life that I have brought you through.  There are more to come.  Some of them are a result of the assault of the enemy, and you found yourself in a prison cell that you had nothing to do about.  You were faithful, obedient and vigilant.  In these times you could not understand why you had to suffer these attacks and setbacks and unfairness. But I brought you through them, says the LORD.  I was with you before, during, after and always.  There is never a time that you were alone or on your own without My presence and power and help.  I have never abandoned you regardless of your circumstances, and I am not leaving you now or ever, regardless of what your circumstances are.  I will bring you out of the impossibilities of your life that you are now facing.   I did it in the past, and I will do it now.  What I do for you now is what I can and will do in your future, says the LORD.
Call Me the undefeatable ONE, says the LORD. IS ANYTHING TO HARD FOR ME?  Does the word impossible exist with ME?  Is there any enemy that dares to try to assault Me?  Can any power abort My plan?  Is there a voice that leads Me?  Can anything avert My attention or distract ME? What power can threaten Me?  What can keep Me from My purpose in You?  Nothing, says the LORD. NOTHING.  I call.  I choose.  Did you think that I was uncertain when I did this?  I who know the end from the beginning also know every pitfall.  I know the ones that were set for you and I know the ones that you fell into because of your lack of vigilance at that moment. BUT I DELIVERED YOU OUT OF THEM ALL, and I WILL deliver you and I will YET deliver you.  I hear every call, and I know every step you take in advance.  When I called you, I saw every snare, every pitfall, every prison cell, every problem and I still called.  I knew the ones that I would choose before the foundation of the earth, and I make no mistakes. I will equip and create. I will deliver. I will cleanse. I will perfect. I will beautify. I will design and build and do whatever I will.  I do not have a problem or a snare or a pitfall or a trial and test. I cannot be delayed or stopped.  Did you think I could?  Trust in Me at all times, for the pitfalls are not dictating your destiny in Me, and even when you fall into the traps of the enemy, I will NOT be oblivious of you or your cry. I will rescue you. I knew. I hear and I will bring you up and out of everything, because I Am your GOD, and I will not leave you in the pit of despair or ignore your troubles. I will deliver you and save you and set you on My prescribed path of righteousness and enable you to finish the race and keep the faith in Me, says the LORD.
Donate to Prophetic Light
Prophet Dr. June Reinke has been the Senior pastor of Prophetic Light International,Bible School and Christian Ministries, Inc. in Dade City, Florida for over 29 years.She has been a revivalist, author and has operated in the prophetic gift, including Word of Knowledge for decades.She has experienced prophetic dreams, visions for many years. Healing, deliverance and creative miracles are among the manifestations of the Spirit that have occurred in her ministry.She is also a graduate of Tyndale Theological Seminary in Ft. Worth, Texas, and earned her MA degree in counseling From Central Michigan University.The physical church, situated at 36134 Clinton Avenue, Dade City, Florida,is called Prophetic Light Gathering Place.It is not a conventional church.but led by the Holy Spirit.She does on spot ministry, prophecy, and impartation, as the Holy Spirit and Gifts of the Spirit are in operation in the meetings.Her desire is that everyone who attends has a genuine encounter with the LORD, and be forever changed.
Latest posts by June Reinke (see all)