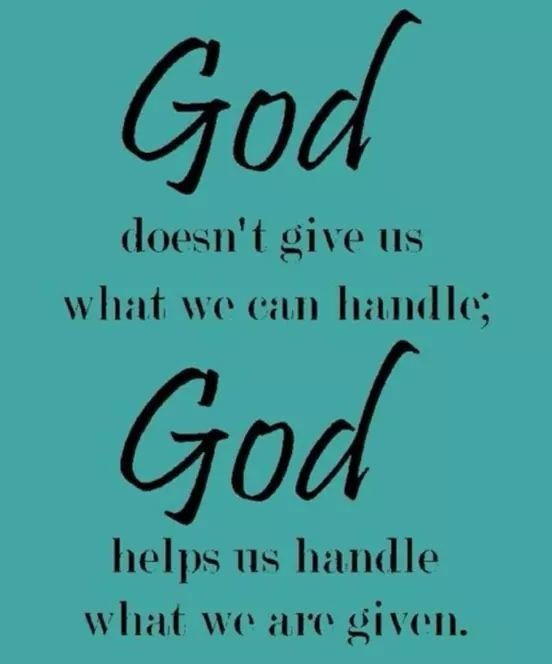 There is nothing that you cannot handle and nothing that you cannot bear, because I Am with you, strengthening you, comforting you, helping you, says the Lord. As you glance back at your life you will remember numerous times that you felt so overwhelmed that you despaired of life itself and didn't think you could make it through those dark and difficult times. But you did! Yes, I was there to cause light to break through the dense darkness, hope to spring up within you and courage to propel you as I secured you through those times. You made it because I caused you to succeed and not to fail. I helped you to overcome every enemy attack, not to be overwhelmed. I made you a victor and a conqueror and an overcomer in Me. That which the enemy endeavored to do against you to weaken, disarm and defeat you worked for his disadvantage, says the Lord.
You are now stronger and have greater ability to use the mighty spiritual weapons I have given you. You already won every battle because I was with you to see to it, says the Lord. You gained wisdom, resolve and greater faith that has become a terror to the enemy. Yes, glance back but do not go back. The rear view mirror is there to glance back to see where you have been and what is behind you. Remember, I Am your rear guard. The past is not able to destroy your present. The remembrance is not to stop your progress, but to reassure you that absolutely nothing defeated you then, and nothing can defeat you now, says the Lord.
As every enemy attack did damaged to the kingdom of darkness instead of you, the same is happening now. I will see you through. I did not bring you this far to have you whipped and defeated. What you now face is not bigger than you, because I Am the almighty God in the midst of you and you are undefeatable in Me, says the Lord.
Yes, conditions seem so difficult at times that you cannot see your hand in front if your face. But be assured that I can, and I will lead you safely through every trial and test, says the Lord. Look ahead! Steady yourself in Me. I Am making you stronger. You did not want to be weaker, did you? Yes, I Am making you a front liner, says the Lord. I Am taking you to the front of the battle where you can look at the fierce Goliath in the face and wag your head in pure confidence that he cannot touch you. You are about to knock him out, step on his neck, cut off his head and let the vultures feed on his dead carcass. Yes the very weapon he threatened you with will turn against him shortly.
Be fierce and courageous. My servant David learned that the Lion and the bear were not able to steal, kill and destroy his Father's sheep or him. Not with Me on his side. He found Me in those times when no other help was in sight. He faced the giant with great faith that nothing could defeat Him. Nothing! He was not alone. I was with him and enabled Him to be more than a conqueror and overcomer, says the Lord. That is what I am doing with you! See yourself as a mighty person of valor today as you wag your head at the enemy and tell him that you fearlessly come against Him in My name, My Spirit and My undefeatable weapons and you are about to knock him out, cut of his head, destroy his works and pursue his dark army until you plunder them, release the captives held in bondage and return with a great spoil to the absolute position of victor and promotion. Oh yes! You asked for it. Promotion comes to victors and all comes from Me as I give you the power to face the enemy head on and utterly defeat him in Me, says the Lord.
Donate to Prophetic Light
Prophet Dr. June Reinke has been the Senior pastor of Prophetic Light International,Bible School and Christian Ministries, Inc. in Dade City, Florida for over 29 years.She has been a revivalist, author and has operated in the prophetic gift, including Word of Knowledge for decades.She has experienced prophetic dreams, visions for many years. Healing, deliverance and creative miracles are among the manifestations of the Spirit that have occurred in her ministry.She is also a graduate of Tyndale Theological Seminary in Ft. Worth, Texas, and earned her MA degree in counseling From Central Michigan University.The physical church, situated at 36134 Clinton Avenue, Dade City, Florida,is called Prophetic Light Gathering Place.It is not a conventional church.but led by the Holy Spirit.She does on spot ministry, prophecy, and impartation, as the Holy Spirit and Gifts of the Spirit are in operation in the meetings.Her desire is that everyone who attends has a genuine encounter with the LORD, and be forever changed.
Latest posts by June Reinke (see all)