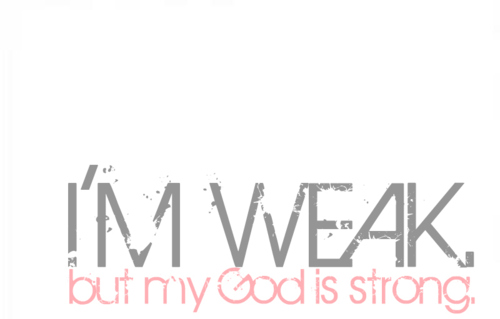 There is no weakness in Me, says the LORD. Though you feel weak, know that it is not about what you can do in your own power or what you can be or what you can change or what you can impact. It is about ME. I Am not only with you, but I Am within you. I AM the strength of your heart and life, and MY strength is made perfect and complete in your weakness. Be strong in ME, says the LORD. Be strong! For your strength is of ME. It is the irresistible power of MY SPRIIT in you! It is unconquerable. It is unshakable. It is immovable. It is abounding. This is what have proclaimed you to be. You will stand in MY strength, and be compete in ME, says the LORD.
This is not someday or sometime. This is your now strength. This is your NOW power. This is your NOW position as you wait on ME. I will cause you to run and not grow weary. Let it not once be named among My remnant warriors that they are weary in well-doing. Let none of you become faint hearted! Let me not need to ask you where your faith is. For I did not raise up an army of wimps that cower when that old serpent, the devil roars. I have given you a lion's heart and a greater roar than his. His shout becomes a mere meow compared to Mine within you. LET OUT THE ROAR! Let it erupt from you, for I AM the LION OF JUDAH. Let a holy violence come forth from you as you arise and fight!
My warriors are undefeatable. They will not retreat when the enemy rages against them. You are not a cowardly company, and they will not back down. They will not break rank and they will not be intimidated with the courts of hell that cannot not prevail against them. They will do great feats for Me and break in two the weapons of the evil one, defeat and destroy his diabolical works, plunder his camp, release the captives and proclaim that I reign now upon the earth in new territory that you have conquered for MY kingdom and raise up My banner, says the LORD.
Donate to Prophetic Light
Prophet Dr. June Reinke has been the Senior pastor of Prophetic Light International,Bible School and Christian Ministries, Inc. in Dade City, Florida for over 29 years.She has been a revivalist, author and has operated in the prophetic gift, including Word of Knowledge for decades.She has experienced prophetic dreams, visions for many years. Healing, deliverance and creative miracles are among the manifestations of the Spirit that have occurred in her ministry.She is also a graduate of Tyndale Theological Seminary in Ft. Worth, Texas, and earned her MA degree in counseling From Central Michigan University.The physical church, situated at 36134 Clinton Avenue, Dade City, Florida,is called Prophetic Light Gathering Place.It is not a conventional church.but led by the Holy Spirit.She does on spot ministry, prophecy, and impartation, as the Holy Spirit and Gifts of the Spirit are in operation in the meetings.Her desire is that everyone who attends has a genuine encounter with the LORD, and be forever changed.
Latest posts by June Reinke (see all)