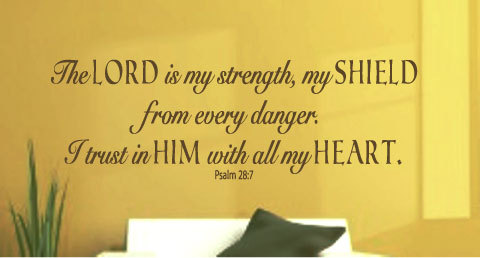 I Am your shield and exceeding great reward, says the LORD. I have you covered. I Am your rear guard and your defense at all times. The enemy is not bigger than I Am and He cannot out-power Me, the Greater One in you and with you. Trust that I will meet your need. For I Am a promise Keeper for you. I will Shepherd you as My own and call you by name. For I know you. I value you. I hold you close to My heart and decree over you. Before you were born I knew you and made provision for you. Trust that I order your steps, provision each one of them and have a clear path for you to walk upon. I will foil the plans of the enemy so that he will be exposed and ruined. For I Am way ahead of you to secure the way that you are to take. Be patient with the process for you are making progress, says the LORD.
Take the steps that I order and take none until I say so, says the LORD. For there are times that I want you to stand still and wait for the directive that I give. I will call you to come forward when it is time. The pace is what I set, the provision is from Me, and I do all things well. Do not frustrate yourself with the fleeting things of this life that are only for a short space of time but focus on what really matters. I will show you your kingdom purpose and lead you into your destiny as you follow the path that I prescribe for your life and bring you into it. You will not need to beg for anything, for what I give is perfect, on time and cannot be extracted from you. Do not settle for less than what I do and give and do not become stressed with the times and seasons that are in My hands. For I brought you through much already. What you are now facing and will face in the future, you will never face alone. For I Am the Almighty GOD that is with you. I will bring you through the trials and tests and tribulations, safely, completely and give you the victory every time as you totally entrust your life and destiny and times to Me, says the LORD.
Donate to Prophetic Light
Prophet Dr. June Reinke has been the Senior pastor of Prophetic Light International,Bible School and Christian Ministries, Inc. in Dade City, Florida for over 29 years.She has been a revivalist, author and has operated in the prophetic gift, including Word of Knowledge for decades.She has experienced prophetic dreams, visions for many years. Healing, deliverance and creative miracles are among the manifestations of the Spirit that have occurred in her ministry.She is also a graduate of Tyndale Theological Seminary in Ft. Worth, Texas, and earned her MA degree in counseling From Central Michigan University.The physical church, situated at 36134 Clinton Avenue, Dade City, Florida,is called Prophetic Light Gathering Place.It is not a conventional church.but led by the Holy Spirit.She does on spot ministry, prophecy, and impartation, as the Holy Spirit and Gifts of the Spirit are in operation in the meetings.Her desire is that everyone who attends has a genuine encounter with the LORD, and be forever changed.
Latest posts by June Reinke (see all)