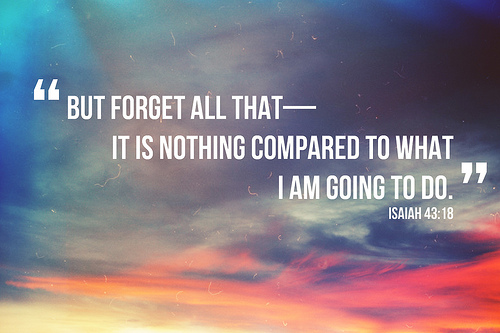 Forget the past, says the LORD. You have sought for My righteousness and found it in Me. I have eradicated your past sins and washed you and cleansed you by My blood. Stop looking back, for I Am not reminding you of what I have already removed from you. You need to forget what I have forgotten and know that it is not recorded in My books. I have blotted out all of your transgressions and the sins of your past were gone the moment you confessed them to Me and received My forgiveness and cleansing. You are washed. You are clean. You are free. Do not listen to the accuser as he endeavors to remind you of the past. Press forward into the liberty that I have given you, says the LORD.
Condemnation and rejection are not of Me, says the Lord, so do not accept it. Entertain the joy that I have given you as I created a clean and right spirit in you. You are not bound, but you are free. I have given you My righteousness that I purchased for you by My finished work on the cross and My shed blood for you. It is finished, and complete, and your faith in Me and what I have accomplished for you has made you whole. Walk in it, says the Lord, and be assured that the Work I have done for you and in you and will do through you is a perfect and complete work. For it is BY MY SPIRIT, says the LORD, and you will know the power of My Love and My unlimited presence in your life as you move forward in Me and never look back.
Prophet Dr. June Reinke has been the Senior pastor of Prophetic Light International,Bible School and Christian Ministries, Inc. in Dade City, Florida for over 29 years.She has been a revivalist, author and has operated in the prophetic gift, including Word of Knowledge for decades.She has experienced prophetic dreams, visions for many years. Healing, deliverance and creative miracles are among the manifestations of the Spirit that have occurred in her ministry.She is also a graduate of Tyndale Theological Seminary in Ft. Worth, Texas, and earned her MA degree in counseling From Central Michigan University.The physical church, situated at 36134 Clinton Avenue, Dade City, Florida,is called Prophetic Light Gathering Place.It is not a conventional church.but led by the Holy Spirit.She does on spot ministry, prophecy, and impartation, as the Holy Spirit and Gifts of the Spirit are in operation in the meetings.Her desire is that everyone who attends has a genuine encounter with the LORD, and be forever changed.
Latest posts by June Reinke (see all)