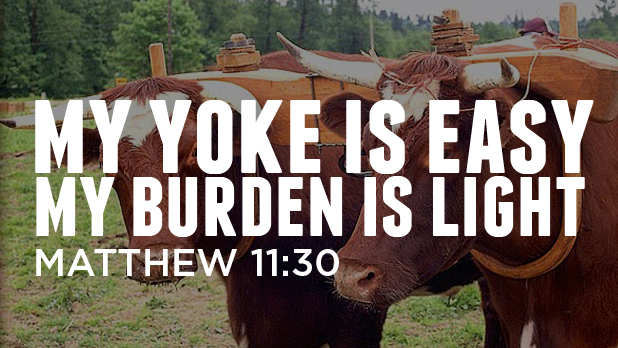 My easy yoke and light burden are what I have for you, as you link up with Me this day, says the LORD. I do not want you falling under the heavy load. Cast it on Me. All of it! It is not necessary for you to bear it. I can handle it, and I will embrace you and carry you as well. Unburden yourself with the cares of this life and the concern for your loved ones. Do you not believe that I will care for all of them as well as you? What belongs to you is Mine. I will save the lost sheep. I have saved you, and your household will be saved and safe in My arms, because of your faith and trust in Me and My finished work on the cross for you. Entrust every person, place and thing into My holy hands and My care, for I will do all that you entrust ME with, says the LORD.
What can you do that is beyond what I can do, I ask? For it is not by your might or your power, but by My Spirit, says the LORD. You do not have to overthink things as you often do. You do not need to cover all the bases as you have a tendency to try to do. Let ME be the LORD of all that pertains to you, and be your covering. I will cover you with My hands that created you, and provide for you all that you need. Look at your past and see the many times I intervened for you, and take that as an example of My faithfulness to you. For as you look at the problems and carry the burdens, you are not shifting them onto Me. I Am your GOOD SHEPHERD that cares for you and your offspring. I care for the sheep and lambs alike, and none escape My attention. Attend onto Me and My voice that is calling you into a new shift. That shift is for you to unload the cares and burdens onto Me so that you can accelerate and ascend with speed and height without the weights holding you down and causing you to bow low. Give it up and over onto Me, and you will shift into the new, and higher place in ME, as you accelerate, unencumbered and free, says the LORD.
Donate to Prophetic Light
Prophet Dr. June Reinke has been the Senior pastor of Prophetic Light International,Bible School and Christian Ministries, Inc. in Dade City, Florida for over 29 years.She has been a revivalist, author and has operated in the prophetic gift, including Word of Knowledge for decades.She has experienced prophetic dreams, visions for many years. Healing, deliverance and creative miracles are among the manifestations of the Spirit that have occurred in her ministry.She is also a graduate of Tyndale Theological Seminary in Ft. Worth, Texas, and earned her MA degree in counseling From Central Michigan University.The physical church, situated at 36134 Clinton Avenue, Dade City, Florida,is called Prophetic Light Gathering Place.It is not a conventional church.but led by the Holy Spirit.She does on spot ministry, prophecy, and impartation, as the Holy Spirit and Gifts of the Spirit are in operation in the meetings.Her desire is that everyone who attends has a genuine encounter with the LORD, and be forever changed.
Latest posts by June Reinke (see all)