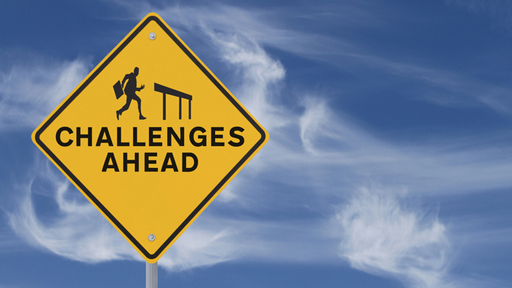 You can meet new challenges head-on, says the Lord. Don't run from them and do not cower in the corner. For I have made you to be a mighty conqueror. Be bold and strong. For your strength is in Me. My roar in you is greater than the roar of the evil one, and you will out-shout the enemy. Fear is not an option and defeat is not the plan. I have purposed in you to slay the giants, for they cannot over-power Me, and I Am with you to give you the victory. Suit up in My armor and take up My sword! For the champions of the enemy are already puny in My sight. They are lower than grasshoppers and powerless against Me. They will not defeat you, for I Am with you and call you undefeatable, says the LORD.
What is new to you is not new to Me, for I planned and purposed it long ago, says the LORD. I have already seen the outcome of the battle and called it ahead of time. You are in the winner's circle with Me, raising up the trophy. It is not even a close call. For did not I say that you would be more than a conqueror? Submit to Me! All that you are in Me is more than enough to cause you to triumph over the enemy at all times. I Am the cause and the effect and you will stand against the enemy and not fall. You will succeed and not fail. You will take the spoil from him and not be spoiled. You will possess new territory and not lose ground. You will shout the victory as you face the enemy head-on and resist him, and he will flee from you. Run toward the giants in the land and boldly face what now challenges you. For your challenges will only prove to enlarge you, strengthen you and fortify you for the next fray that is also already declared victorious for you. For with Me you will run through a troop and leap over a wall. You are not alone, but fully armed and dangerous to the enemy, as I have come alongside to war a good warfare with you, and bring you from grace to grace, faith to faith and victory upon victory, says the LORD.
Donate to Prophetic Light
Prophet Dr. June Reinke has been the Senior pastor of Prophetic Light International,Bible School and Christian Ministries, Inc. in Dade City, Florida for over 29 years.She has been a revivalist, author and has operated in the prophetic gift, including Word of Knowledge for decades.She has experienced prophetic dreams, visions for many years. Healing, deliverance and creative miracles are among the manifestations of the Spirit that have occurred in her ministry.She is also a graduate of Tyndale Theological Seminary in Ft. Worth, Texas, and earned her MA degree in counseling From Central Michigan University.The physical church, situated at 36134 Clinton Avenue, Dade City, Florida,is called Prophetic Light Gathering Place.It is not a conventional church.but led by the Holy Spirit.She does on spot ministry, prophecy, and impartation, as the Holy Spirit and Gifts of the Spirit are in operation in the meetings.Her desire is that everyone who attends has a genuine encounter with the LORD, and be forever changed.
Latest posts by June Reinke (see all)