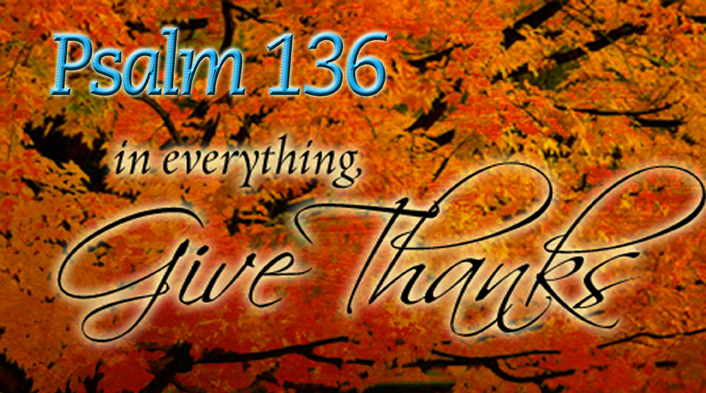 Happy Thanksgiving to everyone around the world. FOR EVERY DAY IS THANKSGIVING DAY! In everything give thanks, for this is the will of GOD in CHRIST JESUS, concerning you. This is not telling you that you are to give thanks for the trials, tests, tribulations, sicknesses, trauma and drama in your life, but the will of GOD for you is to be thankful onto GOD and bless His name at all times. GOOD TIMES, bad times, between times, be thankful to GOD. For He gave His only begotten Son for you to save you from your sins, cleanse you, change you, heal you, provide for you, deliver you.
Psalm 103: 1-5:
1. Bless the Lord, O My soul, and all that is within Me bless His Holy Name.
2.Bless the LORD, Oh My Soul, and forget not all his benefits:
3. Who forgiveth all thine iniquities; who healeth all thy diseases;
4. Who redeemeth thy life from destruction; who crowneth thee with lovingkingness and tender mercies;
5. Who satisfieth thy mouth with good things so thy youth is renewed like the eagles.
We bless His Holy name for all the benefits He daily loads us with. We remember them despite our current challenges. We bless Him because he forgives ALL our sins. He heals all our diseases. He redeems our lives from destruction. We are crowned by His loving kindness and tender mercies. HE SATISFIES our mouths with good things and our youth is renewed like the eagles.
We are forgiven, healed, redeemed, saved from destruction, filled, furnished, blessed, renewed, strengthened, satisfied.
WE have his continual living kindness. His compassion fails not! They are new morning by morning. Great is His faithfulness!
Today we celebrate the Savior, the LORD, the Healer, the Provider, the HELPER, Our peace, our way maker who is the Way, the Truth and the Life, and OUR ALL IN ALL.
Either we believe GOD is our source in all things and never changing, or we do not. We can sing at the midnight hour when our backs are bleeding for the preaching of the gospel. We can praise GOD who is always on our side, no matter how many troubles follow us. WE have the GREAT SHEPHERD, the bishop of our souls. WE HAVE GOD, and HE HAS US. There is no mediation, no compromise, no questions. Either we are believers or we are doubters.
LET US REJOICE IN THE LORD, always and be thankful onto HIM, who is faithful and true, now and always.
Prophet June Reinke
Donate to Prophetic Light
Latest posts by June Reinke
(see all)