I want to thank all those who donated to Prophetic Light International, for the mission trips to Africa through face book, mail, and also through propheticlight.org. Your partnership with me through prayer and donations have helped enable me to go to 5 mission trips in Africa. Each one has been extremely impacting, and more powerful than the previous. Thousands have been filled with the Holy Spirit and spoke in tongues for the first time. Thousands have been divinely healed and delivered and their lives will never be the same again. Many were saved in venues and open air meetings. We give GOD the glory, for He does all things well!
God poured out signs and wonders and miracles like I have NEVER seen before! Sight and hearing was restored. Tumors disappeared. Heart problems were instantly healed. Swelling went down. Legs, arms, shoulders, necks, feet, hands, backs, stomachs, headache pain: all instantly healed through impartation. As soon as I touched their hands, they were filled with the HOLY SPIRIT. Just a touch, and they were divinely healed of many conditions, too many to name. A baby was resurrected in her mother's womb! The mother had stopped feeling any life or movement for days, and as soon as I touched her abdomen the baby JUMPED! The barren conceived. HIV, TB, pneumonia, irregular heart beat, chest pain, partial paralysis, healed.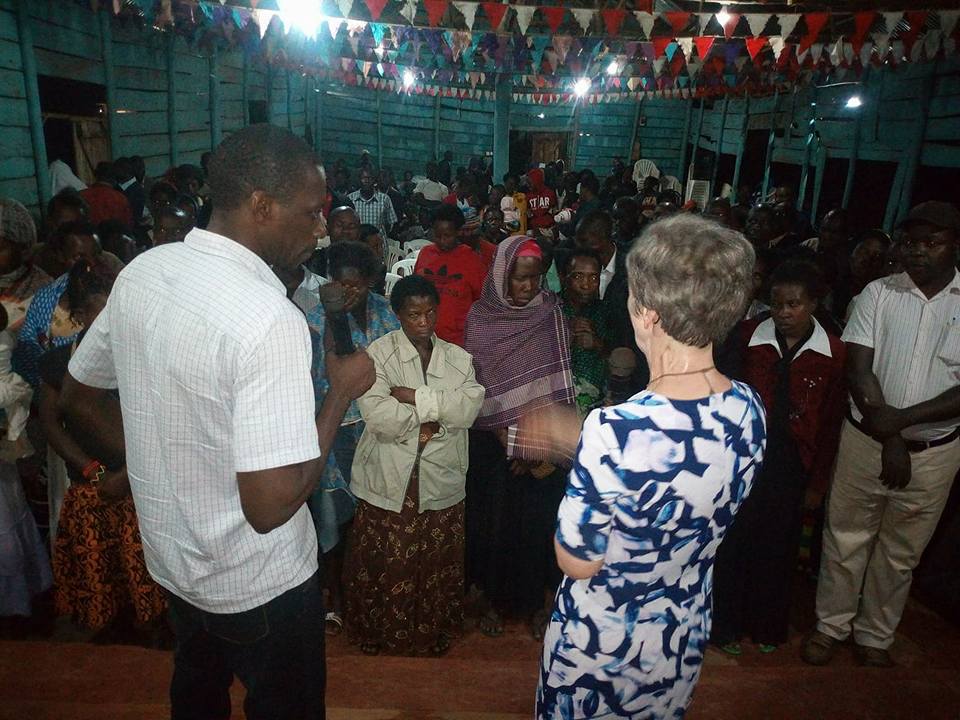 I was also invited to go to a medical clinic to pray for patients. The doctor that welcomed me asked that I go into his examination room and pray for the sick. All of them were instantly healed, saved, and then filled with the Holy Spirit. I asked two of the doctors in the clinic if they needed to be healed, and both had medical issues, and GOD HEALED them instantly and then they were both filled with the Holy Spirit. The last venue I went to before returning to America, a blind eye was instantly opened as well as many others healed.
I was also taken to the homes of sick persons where many gathered to be healed. In one home, the doctor was administering an IV to a woman who was laying on a mat. I prayed for many people there as well and they were healed and saved and filled with the HOLY SPIRIT. The doctor who was present was also healed and filled with the Holy Spirit, and wanted me to go to his own mother's house to pray for her to be healed.
I have never seen anything like it in my life before! Everything that HE told me I would do when He spoke to me in the audible voice, and told me that He was sending me to Africa, has happened. ALL GLORY TO GOD!
Many were saved AFTER they were instantly healed. They believed when they received their miracle. As soon as they were saved, I laid hands on them to receive the Holy Spirit baptism, and as soon as I touched them, they were instantly filled and spoke in tongues.
I have only been back in the USA for a few days and the Lord has already spoken to Me and told me that I will go back to Africa.  Then harvest is truly great, ripe and ready for reaping. Thank you again for partnering with me for the expansion of the Kingdom of GOD and His glory.  I need your prayers and support if I am going to be able to return to Africa for another powerful mission, where thousands of lives will be forever changed.
Thank you for your prayers and financial support, for without you, I could NOT do this!  To contribute, please use the friends and family option if you use pay pal. The email address is [email protected]  ALso there is a donation button on the website (propheticlight.org).  You can send a donation through the mail to:  Prophet June Reinke, Prophetic Light International, 40403 Sunburst Drive, Dade City, Florida.  God bless you as you give.