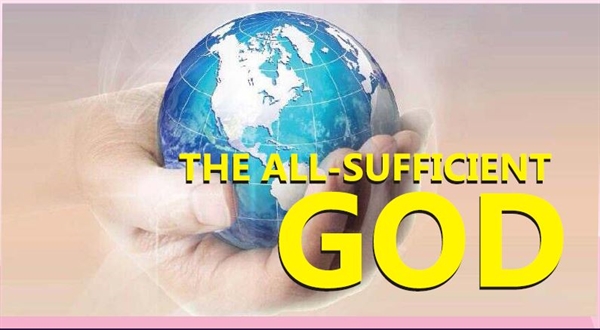 I Am the first and the last, and everything in between, says the LORD. There is NO OTHER GOD. There is NO Other that can do what I do. I knew you while you were yet in the womb of your mother, and I know every detail of your life. I know the way that you take. I know the future, and I have ordained everything about your life and destiny from the moment that you were born to the end of your earthly sojourn. There is NOTHING what was, is and will be that can escape My knowledge, and nothing takes Me by surprise. Nothing, absolutely nothing is out of My sight, and NOTHING is beyond My infinite understanding. There is NOTHING that I cannot do, nothing that I will not complete and perfect, and NOTHING that I will not finish, that I have begun, says the LORD.
Trust in Me completely, who knows the end from the beginning, says the LORD. Those things that suddenly come upon you were already in My knowledge. I Am bigger than the difficulties, greater than your enemies, and there is NO POWER that can frighten Me, usurp authority over Me, or stop My power. I will be everything that you need Me to be, as you believe that I Am your ULTIMATE SOURCE in all things, at all times, and there is NOTHING that you go through that I have not already been there. I will make that way of escape for you just as I did the Children of Israel, when their enemies pursued them. I have NOT changed, and I Am the ageless one. I never grow tired or weary, and My hand is not short concerning you. ENTRUST ME WITH YOUR TOTAL CARE, not just for one thing, but everything. Believe that I Am for you and not against you, and will bring you out of situation as a victor, and give you everything you need, as you Make Me the Lord of EVERYTHING and ALL in your life, and for eternity, says the LORD.
Donate to Prophetic Light
Prophet Dr. June Reinke has been the Senior pastor of Prophetic Light International,Bible School and Christian Ministries, Inc. in Dade City, Florida for over 29 years.She has been a revivalist, author and has operated in the prophetic gift, including Word of Knowledge for decades.She has experienced prophetic dreams, visions for many years. Healing, deliverance and creative miracles are among the manifestations of the Spirit that have occurred in her ministry.She is also a graduate of Tyndale Theological Seminary in Ft. Worth, Texas, and earned her MA degree in counseling From Central Michigan University.The physical church, situated at 36134 Clinton Avenue, Dade City, Florida,is called Prophetic Light Gathering Place.It is not a conventional church.but led by the Holy Spirit.She does on spot ministry, prophecy, and impartation, as the Holy Spirit and Gifts of the Spirit are in operation in the meetings.Her desire is that everyone who attends has a genuine encounter with the LORD, and be forever changed.
Latest posts by June Reinke (see all)